Valves
CypherCo's range of economical, thermoplastic valves are manufactured from engineering grade, close tolerance, injection moulded components. The introduction of plastic valves allowed Closed Transfer principles for liquids to be extended into many industry end uses which were previously inaccessible via stainless steel valves. The valves are available in re-useable multi-trip format as well as in a Single Trip option.
CypherCo valves cover the common range of industry thread patterns, including 2.5" x 5 buttress, 2" BSP and 2" Buttress ( also referred to as 56 x 4 metric ). Main seal compound options include VITON, EPDM and SILICONE for typical industry end uses. By request, more exotic seal compounds such as KALREZ and SIMRIZ can be specified. Neck seal options include those made from EPDM, VITON and Evoprene with profiles including circular O-ring as well as options with square cut profiles.
CypherCo's valve designs comply with all current standards for Dry Break couplings and are fully inter-operable with all current commercial valves and couplers of the Drum Valve type*.
Our valves have been homologated by the major packaging producers of IBCs, 55 Gal L-ring drums and smaller drums, in their UN approval testing. Furthermore, our valves and dry-break operations enjoy the approval from industry organizations such as the EPA and FIFRA in the USA.
As would be expected, CypherCo valves can be specified with the full range of common features, for thread pattern, main seal compound, neck seal compound and spring materials. In addition, CypherCo can supply valves with more exotic, non-standard options of seal compound and spring material.
FLOW RATES
When CypherCo couplers are connected to CypherCo valves, the flow rates represent the industry's highest bench-marks.
Dispense – 23.5 US Gals per minute ( 89 Litres/min )
Fill – 40 US Gals per minute ( 151 Litres/min )
*Excluding those from Colder Products and the CDS system.
Here's a link to design your own valve systems.
Couplers
CypherCo's introduction of our innovative range of plastic couplers, continues the trend for converting more liquid handling industries over to Close Transfer principles.
Using the same injection moulded materials as the valves, CypherCo couplers are fully inter-operable with the current range of commercial drum valves, in 3 PIN and 4 PIN format. These couplers are robust in operation and sturdy in construction, whilst carrying a price which makes them easily replaceable if necessary.
CypherCo couplers feature the industry standard 1" NPT thread and can be fitted with a range of swivels from ¾" to 2". All Dispense Couplers have a Back Pressure Relief device, whilst the Fill Coupler has a Non Return function.
FLOW RATES
When CypherCo couplers are connected to CypherCo valves, the flow rates represent the industry's highest bench-marks.
Dispense – 23.5 US Gals per minute ( 89 Litres/min )
Fill – 40 US Gals per minute ( 151 litres/min )
Dry Break" coupling conforming to BS 6356 Part 9

Here's a link to design your own valve systems.

Dip Tubes
Made from chemically resistant copolymer polypropylene, CypherCo's dip tubes cover the full range of lengths required to fit standard bulk packaging types. The tube assembly design allows for a clear view of liquid levels; a castellated foot provides agitation of liquid contents. The novel bellows design ensures a secure fit in the packaging and the efficiency of liquid extraction is as high as 99.5%.
Packaging Options
CypherCo Limited can provide conforming valve kits for the major size options of the common bulk flexible plastic packaging types. The basic conforming requirements include:-
Ensuring the bung opening thread pattern is one of the following, which matches our valves. Either 1/ 2.5" x 5 Buttress; 2/ 2" Buttress; 3 / 56mm x 4 metric; 4/ 2" BSP
H3 dimension – the height dimension from the floor of the packaging under the bung opening, to the top of the thread pattern where the valve's neck seal will sit. The H3 dimension of your packaging should be specified at the time of requesting a quotation from CypherCo Limited.
Our commercialized valve kits have been used successfully with products from packaging manufacturers including ( but not limited to ) SCHÜTZ, MAUSER, GREIF, SOTRALENZ – from 1,250L / 330 US Gal IBCs down to 110L / US 30 Gal drums.
CypherCo valve kits can include fluorinated dip tubes, for use with packaging which has been treated to Level 3 fluorination.
Our standard valves, dip tubes and couplers have been used successfully with packaging designs from the major manufacturers including ( but not limited to ) SCHÜTZ, MAUSER and GREIF. The container design options range from thelarge 1,250L and 1000L IBCs (330 and 275 US Gal IBCs) through various common sizes for steel and plastic Closed Head drums, down to the smaller 110L / US 30 Gal drums used by specialist industry segments, like Agricultural Chemicals.
Accessories
CypherCo Limited can supply the tightening inserts for its 3 PIN and 4 PIN valves, in steel and plastic options. When fitted to a standard ½" drive tool, the tightening inserts will provide the required 25 Nm of winding torque, for a secure seal and correct fitment. Do not over tighten CypherCo valves beyond the recommended 25 Nm, to avoid damage to neck seals and or the drum threads.
CypherCo has an enviable reputation for designing bespoke valve and coupler variants, with a range of useful features. These include ( but are not limited to ) rinsing adaptors on valves and venting attachments on couplers. Tamper evident seals, dust caps, Brummel wire ties and other industry requirements are also available on request. Please contact our Customer Service desk for an explanation of our accessories, or send through your email enquiry about any device you would like to see in the CypherCo range.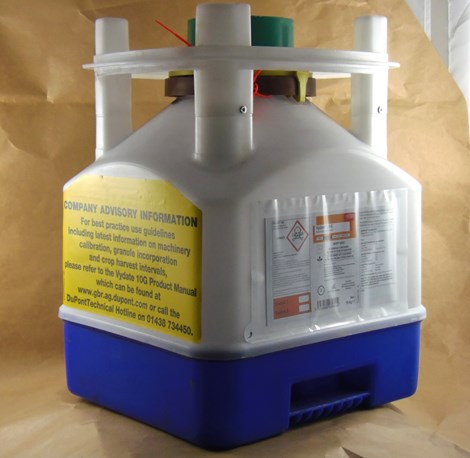 Solid Granule Dispensing
In addition to CypherCo's range of products for liquid handling, our range of innovative products extends to designs to help our customers store and dispense hazardous granulated solids, also in a Closed System. CypherCo's containers for granulated agricultural chemicals provide for economical storage, on the smallest possible footprint, in both empty and filled scenarios. This is achieved with the "nesting" features of our modular injection moulded design. With the use of durable polymer blends for construction, the containers can be colour coded for identification and inventory control, whilst the strength and integrity of the design ensure a 7 year in-service life span. The containers are also re-fillable and re-useable.
The advanced design of our valve ensures the product flow can only occur once the container has been properly positioned on the farm equipment. Removal of the container cannot occur until the valve has been fully closed, eliminating the risk of loss of containment. Flow rates can be controlled by the simple process of rotating the container through 0 – 180 degrees. The valves are equipped with perforated tamper seals and can be removed and re-fitted as consumable parts.
The Granu-Pac dispenser from CypherCo forms the basis of the Du Pont™ Ecolite granule handling system for Vydate® - a family of nematicide chemicals.
PRESS Release – Agrow Awards: DuPont AgroSciences wins Best Innovative Packaging with Ecolite container design
Best Packaging Innovation – This award was presented for the invention of the class-leading, reusable, refillable DuPont™ Ecolite® closed transfer packaging system designed with extensive input from growers and farm equipment operators. For the user, the unit is lighter and more ergonomic.  For the manufacturer, distributor and dealer, units use space more efficiently, are easier to warehouse and transport, and are more cost effective.  For regulators, the additional feature of unit removal from the application equipment only when the transfer valve is fully closed and the ability to track by way of the RFID tag are highly desirable.  The Ecolite® packaging system is utilized with DuPont™ Vydate® 10G Nematicide in the United Kingdom and the Netherlands.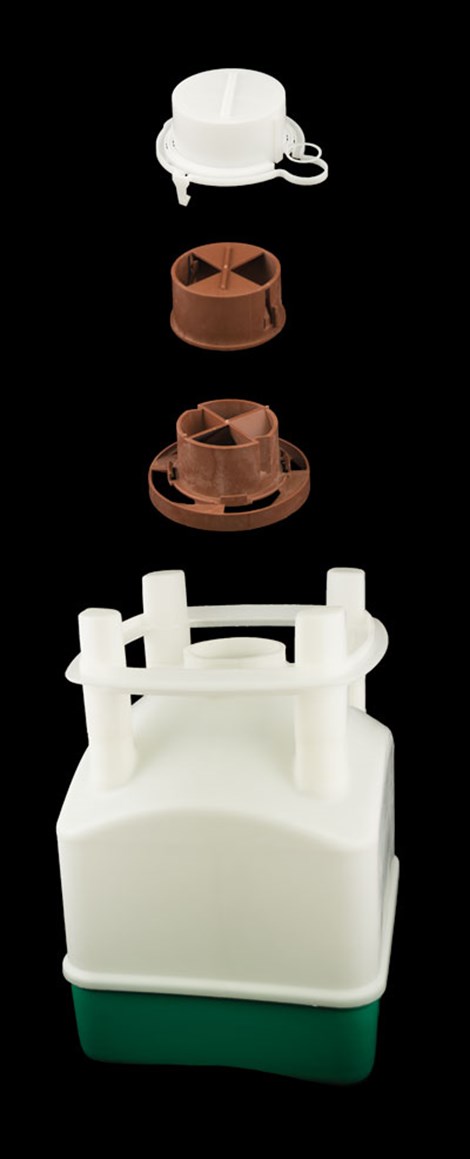 Granu-Pac
Refillable. Reusable. Reliable.
CypherCo's Granu-Pac closed transfer packaging system is designed to meet the requirements of fillers, growers and farm equipment operators.
Lighter and more ergonomic than other industry offerings. Inherently safe and compliant with industry regulations.
Uses space more efficiently, easier to store and transport, more cost effective through the value chain.
With CypherCo's Granu-Loc technology, unit removal from the application equipment can only occur when the transfer valve is fully closed.
CypherCo's Granu-Flo technology enables 100% dispensing of contents.
Dust cap with tamper resistant seal. TPE seals remain attached to dustcap.
Approved for UN Certification 3H2/Y18/S*B/1502.2046-140090. Granu-Pac out-performs the test limits.
The modular design allows for different fill volumes and filling weights.
Fully customizable dimensions, allowing for a range of bulk densities of common granules & powders.
Full tracking capability by way of RFID or bar code.